Updated: Jan 8
2019 is over. 2020 brings a new year. A new decade. And new goals and plans for The Kitchen Sink team. It was an honor to work with Franklin County LOSS last year, and we are so proud of all we were able to do with and for them. Together, Skeleton Clique, we raised over $3,000 for them. Did you know your creations could make such a difference? Our team has always seen the potential in this community. What an experience it has been to help turn that potential into productivity.
Our first H.O.P.E.S. event was a success. It took almost an entire year of planning, all of which was done in our free time. Nobody on our team made a cent of profit from working on this event. As much as we would love to jump right back into planning our second H.O.P.E.S. event for 2020, we want to make sure we put in the time, care, and resources necessary to make it as much of a success as our first event was. With that in mind, our team has made the decision to make 2020 a year of organizing, regrouping, and improvement. In other words, we will not be hosting a H.O.P.E.S. event this year. So what will we be doing instead?
First of all (and most importantly), we will continue to promote and support nonprofits all over the country. Through blog posts, social media, and volunteering (when possible), we want to help spread the word about all of the wonderful resources and programs available to people across the nation. If you know of a nonprofit organization in your community that offers mental health awareness or suicide awareness/prevention resources, you can nominate them to be featured by our project this year! All you have to do is fill out the nomination form on our website. Our team will look over and see what we can do to help promote them.
Secondly, we will be starting the process of becoming an official nonprofit organization ourselves! We're hoping that this will open a lot of doors for the project and our future efforts to support a variety of mental health nonprofits. This will be a detailed journey that will require a lot of patience, determination, and dedication. But we know that, in order to best fulfill our mission, it's what our team needs to do. We appreciate the continued support of our followers as we expand our project this year. We promise there will be lots to keep up with, so please sign up for our mailing list or follow us on our socials to stay updated!
2020 will certainly be full of new challenges; not just for The Kitchen Sink Project, but for you, our followers, as well. We want to encourage all of you to keep pushing forward, even in the difficult moments. Our first H.O.P.E.S. event certainly showed how one person's decision to fight another day, to create instead of cave, can have a ripple effect that reaches communities across the world. It won't always be easy, but with the Skeleton Clique you'll never be alone. That's one thing our team has learned this year. Let's keep joining together to make great things happen.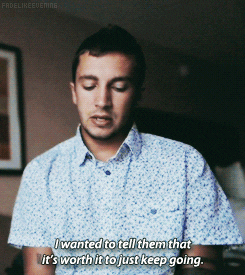 Read more about our first H.O.P.E.S. event in our previous blog post!
#suicideawareness #suicideprevention #mentalhealthawareness #mentalhealthmatters #helpingthehelpers #twentyonepilots #skeletonclique #nonprofits #buildcommunities #stayalive #youarenotalone #art